Dieses Jahr findet die nunmehr achte Auflage des Festivals »next_generation« am ZKM (zusammen mit dem Hertz-Institut) statt! Auch dieses Mal ist das SeaM mit verschiedenen Programmbeiträgen vertreten. Darunter zwei AR- bzw. VR-Installationen (AR :: Chloe Yoon, VR :: Paul Hauptmeier) sowie das Konzert am Samstag, 08.06.2019 // 17:45 h im MEDIENTHEATER. Zum diesjährigen Festival werden zwei akusmatische Kompositionen (Damian Gorandi, Jascha Hagen) präsentiert. Außerdem wird das »[DBO] – Digital Bauhaus Orchester« drei verschiedene Kompositionen (Benjamin Lavastre, Denis Polec, Sergio Valencia) spielen.
https://zkm.de/de/veranstaltung/2019/06/nextgeneration-80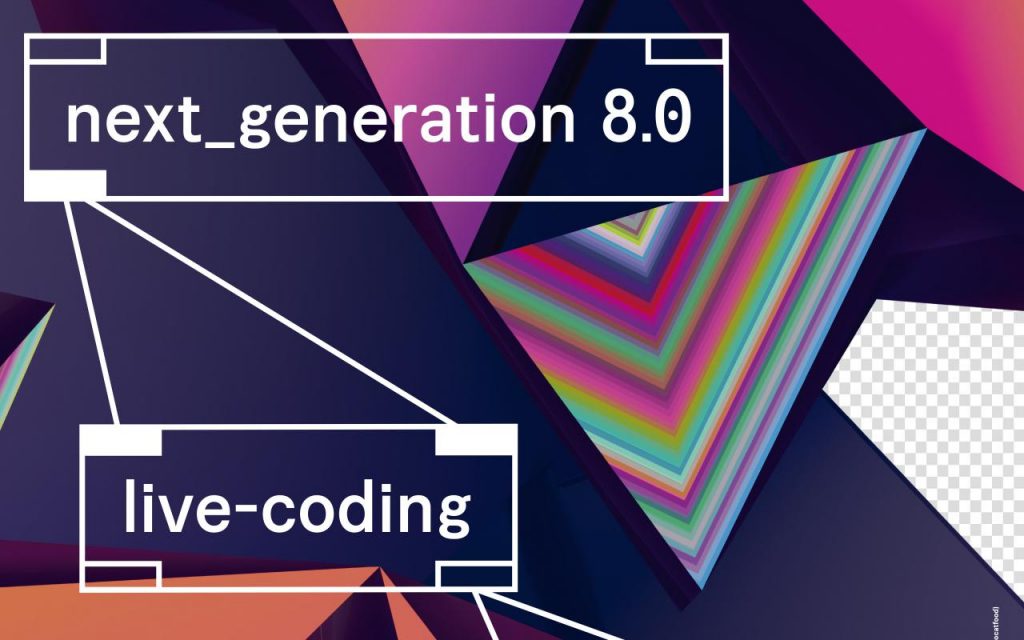 Wir freuen uns schon sehr auf die bevorstehende Fahrt nach Karlsruhe und den inspirierenden Austausch mit all den anderen Hochschul-Studios!
ProgramNotes
(it's not the final concert order!)
AKUSMATIK
Jascha Hagen | »Music For Metal Strings« | 8'00'' min. | 8 Channel
The Piece »Music For Metal Strings« investigates the sonic possibilities of the electric guitar.
The work consists entirely of prepared guitar recordings that have been altered, modulated and processed in various ways. Some recordings were made in studio, others were made in a very large water reservoir in Berlin with a 20 second reverb. Stemming from the tradition of composers like Bjørn Fongaard, Keith Rowe or Fred Frith — who have investigated various new playing techniques for the electric guitar — this piece focuses on the additional acousmatic potential of the altered guitar sounds through the application of software techniques and the spatialization of an 8-channel output on loudspeaker orchestra.
Damian Gorandi | »So… is coming« | 8'00'' min. | 8 Channel
The idea of the work is to capture the instant before a catastrophe, establishing a fiction consisting of multiple folds of time and space. The acousmatic composition has a cinematic character closely related to science fiction. With the sounds of cars, explosions, crowds, alarms and machines, a narrative consisting of signs, memories and references is established: an ambiguous futuristic environment. Like in a violent daydream, a voice, sometimes human, sometimes robotic, recites numbers. At first the numbers don't seem to have a specific order or to be incisive, but gradually they implant themselves within the hierarchy of a drama. They become recognizable as a countdown, establishing a contradictory flow of time and generating tension towards some final, fatal event — an event which has, in fact, been announced in one way or another throughout the entire composition.
DBO
The [DBO] — Digital Bauhaus Orchestra — is an ensemble founded in 2018 at the SeaM Weimar, in which students from various faculties come together to develop and discuss analogue DIY instruments, experimental sound production, software instruments and contemporary performance practices. Each instrumentalist is equipped with his/her own speaker, allowing a direct musical and visual link to the musician. Additionally, the generated sounds are processed by a complex PureData patch (Philipp Schmalfuß / Denis Połeć) and projected into the auditorium over multiple channels. In the concert at the ZKM on June 8th 2019, three compositions will be presented, each dealing with a different strategy of structured improvisation.
For the ZKM concert, the [DBO] ensemble consists of the following musicians:
William Amsler Fieldrecordings | Samples | Electronics
Clement Demonsant Laptop | FX
Leon Goltermann Snaredrum | Razor | Various instruments
Jacob Hartung Daxophone
Mohammad HosseinJavaheri Cycloop | Flute | Electronics
Paulina Kiss Viola | FX
Eleftherios Krysalis Cretan Lyra | Electronics
Jason Langheim Soundbox | Electronics
Stefan Licheri Exper. Guitar | FX
Ronaldas Obukas Voc | LargeSheetMetalPlate | Electronics
Denis Połeć Diffusion | Electronics | Conducting
Josephine Prkno trumps | FX
Philipp Schmalfuss Diffusion | Electronics
Yigit Tasdemir E-Git | Electronics
Onur Ünal E-Git | Electronics
(Direction: Tim Helbig)
Benjamin Lavastre | »Inseln und Flaschen«
»Inseln und Flaschen« is a piece written for the DBO. Each player is free to choose between different objects and follows a set of established rules. Textures vary within a »controlled random« structure that is both generative and geometric.
Denis Połeć | »Adoleszenz«
»Adoleszenz« is a hybrid situated between improvisation and conducting. The composition is for the most part created spontaneously on stage, relying almost entirely on the live interaction between the conductor and the performing musicians. The work demonstrates what happens when structure and chaos overlap.
Sergio Valencia & [DBO] | »quiet spaces«
»quiet spaces« is a piece in which silence and soft textures are the central theme. The structure of the music foresees density and dynamics slowly evolving and increasing over the course of the work, only to finally disappear into the void.
INSTALLATIONEN
Paul Hauptmeier | »drei köpfe — three heads«
an AR-Installation | textures by Elisabeth Kraus
»drei köpfe — three heads« is my first audio visual work created in Augmented Reality. Equipped with headphones and ipads, the audience is invited to explore virtual sound sculptures within an AR environment. Working in this new media led me to reflect on the fact that, while we all share the same physical space, we tend to interact and communicate with and within a multitude of different spaces and realities simultaneously. This phenomena is, however, neither new nor limited to new technologies. General thoughts about related aspects like detachment, accessibility, incomprehension, aesthetic tastes, exclusiveness and (sub-) cultures therefore also influenced the work.
Chloe Jiyoung Yoon | »Cosmos« (2018)
Interactive-VR-Audiovisual | a study on the movement of the planets in our solar system
»Cosmos« models the planets of the solar system and their orbits and presents them in a VR environment. This allows the audience to experience and explore the solar system on a small scale through their own movements in physical space. The audience can listen to the sounds of each planet and interact with their gravitational fields, thereby affecting the outcome of the sounds. The characteristics of each planet are sonified on the basis of a NASA data base. Sounds are designed in Supercollider and controlled in Max/MSP with tracking information received from the VR device. The visuals are coded with C# through Unity 3D. All elements of the work are designed and programmed by the composer.